Princess Jessi's Interests
| | |
| --- | --- |
| General | Karate, Church, my friends Rachael, Francesca, Courtney, Emily and Lauren, and my awesome boyfriend Caleb! Swimming, Chocolate, Creation, Fun, trying new things, going to the mall, music, and much more! |
| Music | Flyleaf, Thousand Foot Krutch, Stellar Kart, Three Days Grace, Evanescence, The Exies, Pillar, Skillet, Relient K, and Red! |
| Movies | Any kind of comedy movie!!! |
| Church: | Grace United Methodist Church |
| Youth Group: | Grace Youth |
| Groups: | FireFlight Freaks, Grace Youth, People Against Abortion, Short peoples club (because we need love too) , To Write Love On Her Arms, united punks of america!!! :D, Virgin til Marriage, |
Princess Jessi's Details
Status:

In a relationship

Here for:

Prayer, Encouragement,
Music, Friends, discover New Music,

Ethnicity:

Latino/Hispanic

Education:

High school

Religion:

Christian - other

Occupation:

Being God's little girl

Height:

5'1"
Princess Jessi's Companies
Children of Grace
Coal Center, PA
Title: Baby Room Teacher
Division:


Date Employed 9/30/08 to present
Princess Jessi havent been on here in forever! :)
Princess Jessi's Latest Blog Entry [Subscribe to members Blog]


Done Waiting

(view)
IMMMMM BACKKK!!

(view)
[View All Blog Entries]
Princess Jessi's Blurbs
About me:

Hi ppls! I am Jessi! I am 19, and I am a freshman at California University of Pennsylvania. I am a pretty easy going person, and I am fairly easy to get along with. I have one sister, I have a best friend, and her name is Rachael. We have been best friends for the last 10 years, and if you asked me to write a biography on her, I so could with soo many embarassing stories! haha Rachael if youre reading this!! I also have another good friend Francesca. We share the same birthday, so she is my mini-waffle and she is one of the few ppl I would call awesome, which also includes Rachael! Whoo! I like to do anything fun, I love funny ppl, funny movies, and Mad TV's Stuart! Well, thats all right now, but I will write more when I feel like it lol!

I got my own Free MySpace Layouts from Pyzam.com

Who I'd like to meet:

Jesus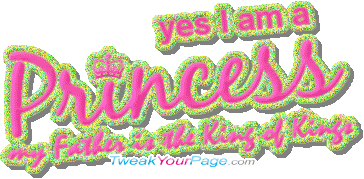 Princess Jessi has

271

friends.
View Princess Jessi's Friends: All | Online | New